Going to college is a big adjustment for anyone, but through Greek Life your child could find their home-away-from-home

Welcome to Truman State University's Greek Community! Entering college will be an exciting and challenging time in both you and your daughter's life. She will find TSU to be a diverse university with almost unlimited choices and opportunities. The Greek Community offers involvement in activities outside the classroom in order to enhance her academic experiences. We hope your daughter will consider sorority membership!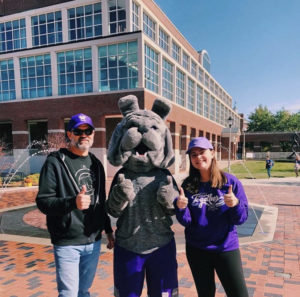 Entering Greek Life opens up many doors to new opportunities for students! Life-long friendships, leadership experience, philanthropy events, personal growth, and professional networking are just some of the perks of joining a Panhellenic Sorority. Look a little deeper and find out how your student can benefit from going Greek:
More than 85% of the student leaders on some 730 collegiate campuses nationwide are involved in the Greek community.
Greeks volunteer over 850,000 hours of their time annually.
Since the beginning of the 20th Century, 85% of the Justices of the U.S. Supreme Court have been Greek; both women appointed to the Supreme Court were sorority members.
What is my role as a parent?
Be supportive and learn as much as you can by asking your daughter questions as she meets new women through the recruitment/intake process. Also, be an active parent during your child's years in a sorority. Remember, being in a fraternity or sorority can only benefit your child. Encourage and support your child. Greek members will be more than happy to tell her (and you) about their group.
Many chapters also host events such as parent's weekend, mom's day, and dad's day events. Attending these fun weekends are a great way you can remain supportive of your child's growth into adulthood, and be a part of their Greek experience.​
Have additional questions/concerns?

We understand that there are lots of questions to be answered when it comes time to start a college career! If you have questions about Formal Fall Recruitment, finance, housing, etc., please see our FAQ page, or send us an email!
You can also check out NPC's website to get a better understanding of Panhellenic Sororities and Greek life: National Panhellenic Council Website