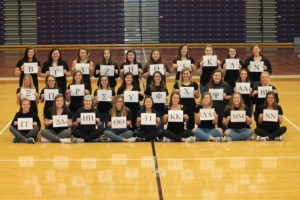 Get to know the 2018 Gamma Chis! A Gamma Chi means "Greek Counselor" and is a woman who temporarily disaffiliates from her sorority to help girls through the recruitment process! They are SO excited to meet you!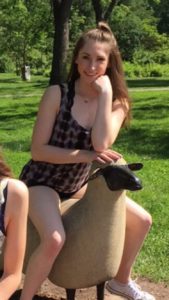 Meet Courtney! She is a bio major and is able to sing her ABC's backwards!!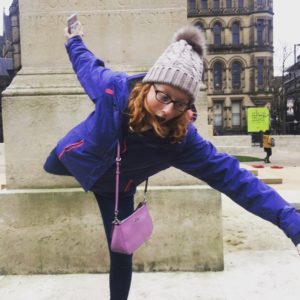 Meet Meaghan! She is a psychology major and is pre-MAE for elementary education! Meaghan has been lucky enough to have traveled to 12 different countries!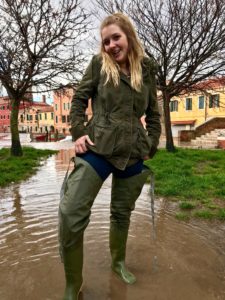 Meet Megan! She is a Business Administration/Marketing major. She claims its not something to brag about, but she has been to a McDonalds in 8 different countries! I'd say thats something extraordinary.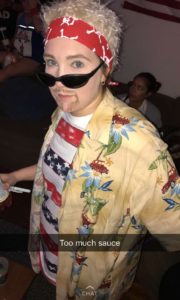 Meet Mollie! She is a communications major and unfortunately she never learned to ride a bike. She does look darn cute as Guy Fieri though!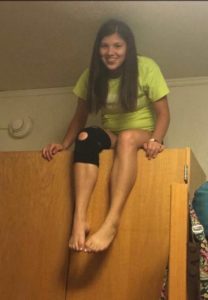 Meet Crystal! She is a psychology major who is fantastic at climbing things! She can climb a rope upside down and also happens to be addicted to popsicles.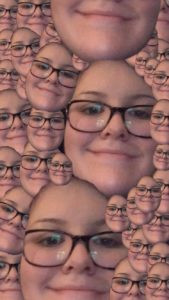 Meet Lauren! She is an exercise science major, Pre-OT. Besides loving the parts of the human body, she is a yankee candle collector!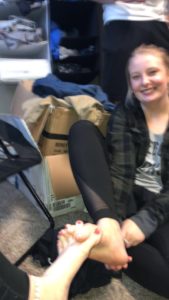 Meet Maggie! She is an exercise science major who claims she loves cats more than humans! (Most humans anyways)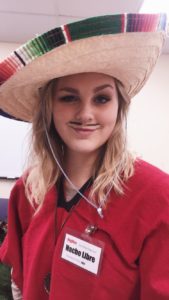 Meet Madi! She is pre-MAE with a major in Art and a focus on painting. We can see her skills in her awesome mustache and eyebrows. Madi also wore dollar general flip flops to prom junior year.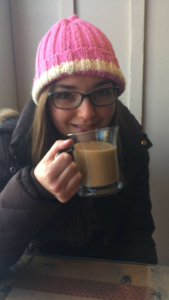 Meet Katelyn! She is a communications disorders major who  loves coffee and warm hats. Her fun fact being that she does not know how to ride a bike!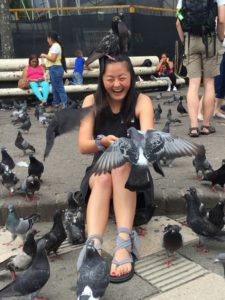 Meet Rachel! She is a marketing major here at Truman, and she also seems to do very well with birds! Rachel can also remember almost all of her dreams and can fly in them!!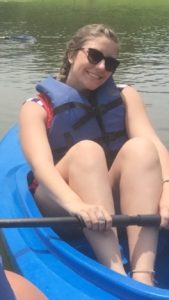 Meet Grace! She is an exercise science major, and she looks pretty darn cute in a row boat! She has 140 members in her extended family, so safe to say she works well with others!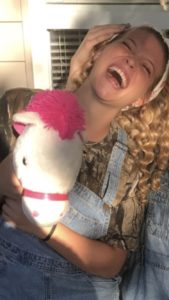 Meet Hannah! She is a communication disorders major and when she was little, she did not want bangs so she cut her own hair down to the roots…she still looked good though!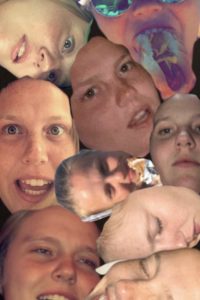 Meet Kelsey! She is a business administration major with a concentration in marketing! Once at a cardinals game, she got hit by a bat, but luckily she made it through to be here!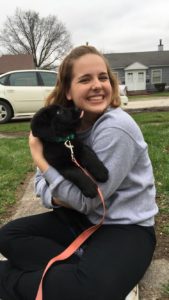 Meet Susie! When she is not busy being a nursing major, she spends her time juggling (sometimes)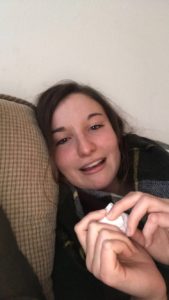 Meet Beth! She is also a nursing major here at Truman. As her fun fact, she has been in a music video before! How cool!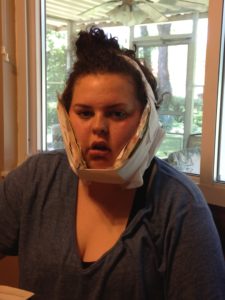 Meet Aly! She is a sociology major who can recite the introduction to Law and Order SVU! Seems almost fitting! Her favorite dessert is ice cream and The Greatest Showman is her favorite movie!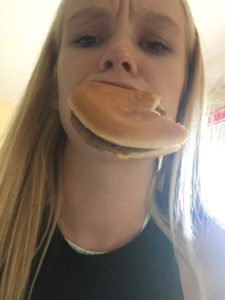 Meet Carlie! She is a nursing major who accidentally shaved off half her eyebrow…Hey at least she's cute though!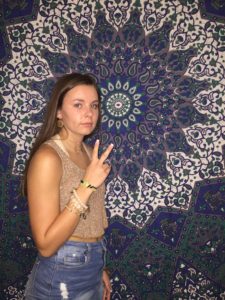 Meet Abbie! She is another amazing nursing here at Truman! Abbie can somehow lick her elbow! Make sure to have her show you when you see her.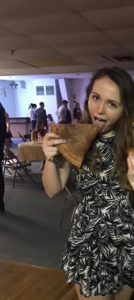 Meet Leah! She is a health science major and has watched every single episode of parks and rec at least 7 times! Now thats impressive.

Meet Maddie! She is an English Major Pre-MAE, and she is pretty handy on the flute and knows how to play the Harry Potter theme song!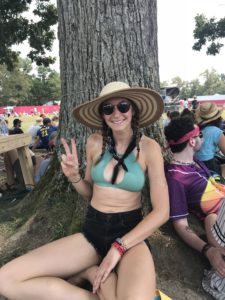 Meet Maggie! She is a communications major with a minor in women and gender studies! She likes the spicy side of life and likes to eat jalapeños on everything!! I can get on board with that!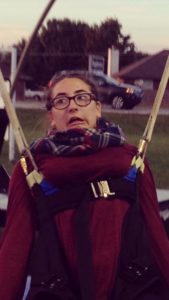 Meet Jackie! She is a psychology major with family roots tied to the Italian mafia!! Do not let that fun fact fool you, she is not that intimidating!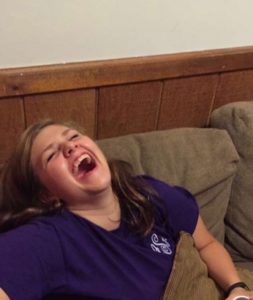 Meet Ally! She is a communication and business administration DOUBLE MAJOR! WOW! Despite how busy she is, she still finds time to collect scrunchies and she owns one in every color!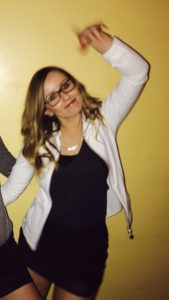 Meet Rachael! She is a sociology major Pre-MAE! But in case sociology does not work out, she classifies herself as a professional napper. And when she is not napping, she is eating cold green beans out of a can!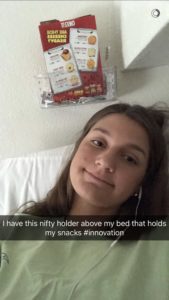 Meet Taylor! She is a health science and biology DOUBLE MAJOR! Too crazy! She barely needs two majors when she has watched grey's anatomy so many times that she could be a successful surgical intern!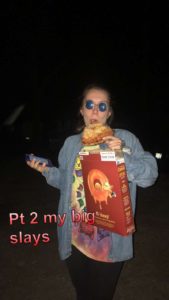 Meet Sarah! She is a health science major with minors in business administration and communication! One time her tonsils turned black…now thats a little scary.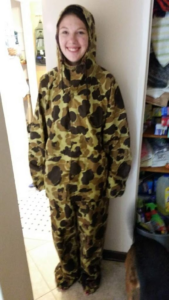 Meet Emma! She is a communication disorders and spanish double major!!! Besides speaking spanish well, she can also recite all the presidents in order!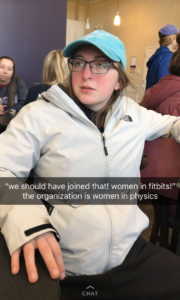 Meet Kaitlyn! She is a biology major who is Pre-Med! Her fun fact is that she can not smell! What a strange and awesome fun fact, make sure to ask her about it!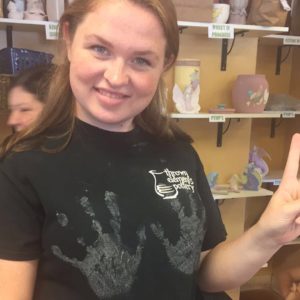 Meet Emily! She has double majors in political science and statistics! So amazing! Despite all her hard work and multiple techniques, she has never been able to learn how to whistle and she does not think she ever will be able to learn!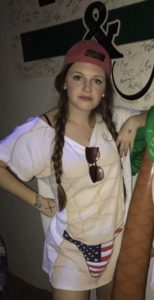 Meet Emily! She is a health science major, Pre-Med. She has two main fears…birds…and bellybuttons! Luckily there are no birds that have bellybuttons!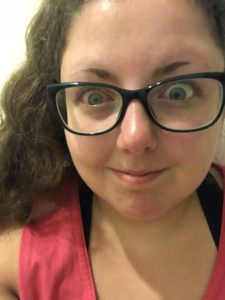 Meet Emmy! She is a nursing major who was able to deliver a baby while she was studying abroad over the summer! Something that is not allowed in the US! How cool!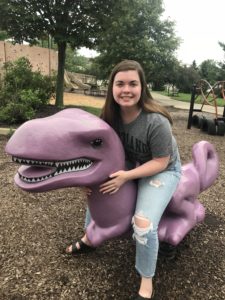 Meet Mary Kate! She is a Truman nursing major whose biggest accomplishment was memorizing the lyrics to the song "We Didn't Start the Fire" and her favorite animal is an alpaca.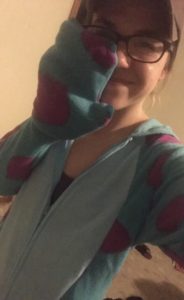 Meet Kelsey! She is an Athletic training major and despite her onesie, her favorite Movie is the Trolls movie! She also has a cute cat named Kartoffel which means potato in German!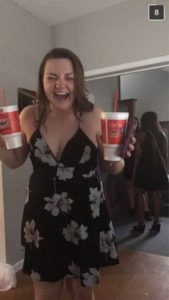 Meet Madison! Her major is Business Management and despite the rumors of free tuition if you are hurt on school property, Madison is proof that being hit by a car on a campus crosswalk is not all it's cracked up to be.